Vipul Sharma, 28th Nov
In today's world, data analytics has become an integral part of business operations. In this article, we will learn about the benefits of using BI for healthcare organizations!
In today's environment, Business Intelligence (BI) is reshaping the world at a rapid rate across disciplines. Business intelligence has been around for a long time, but when integrated with technology, the results are astounding. BI is also playing an essential role in the healthcare industry.
Business intelligence refers to the tools, techniques, and technology that convert unorganized raw data into relevant information. For any domain, data is a source of power and knowledge. BI allows us to examine this data maturely to obtain insights, identify trends and patterns, and understand consumer behavior. It splits data into different forms and shapes and highlights key information in reports.
According to Stratistics MRC, the global market share of business intelligence in healthcare is expected to grow by 17.4% from $3.75 billion in 2017 to $15.88 billion by 2026.
Table of Contents
The Scenario of BI for Healthcare
If we consider a nation's fundamental demands, healthcare should be given the greatest priority, and enhancing its quality, safety values, and efficacy should be a goal. Technology has changed this sector by cutting prices, boosting efficiency, and maintaining quality.
Because of various illnesses, accidents, and other factors, the number of hospital patients is only increasing. With these increasing numbers, data management in the healthcare industry is also becoming more complicated. Thus, the need for advanced analytics tools for decision-making capabilities is growing daily.
Hospitals and healthcare companies must use predictive modeling and data visualization technologies. These requirements are met by current business intelligence software, which provides insight into everyday procedures, patient care, and satisfaction.
The Applications of BI for Healthcare Industry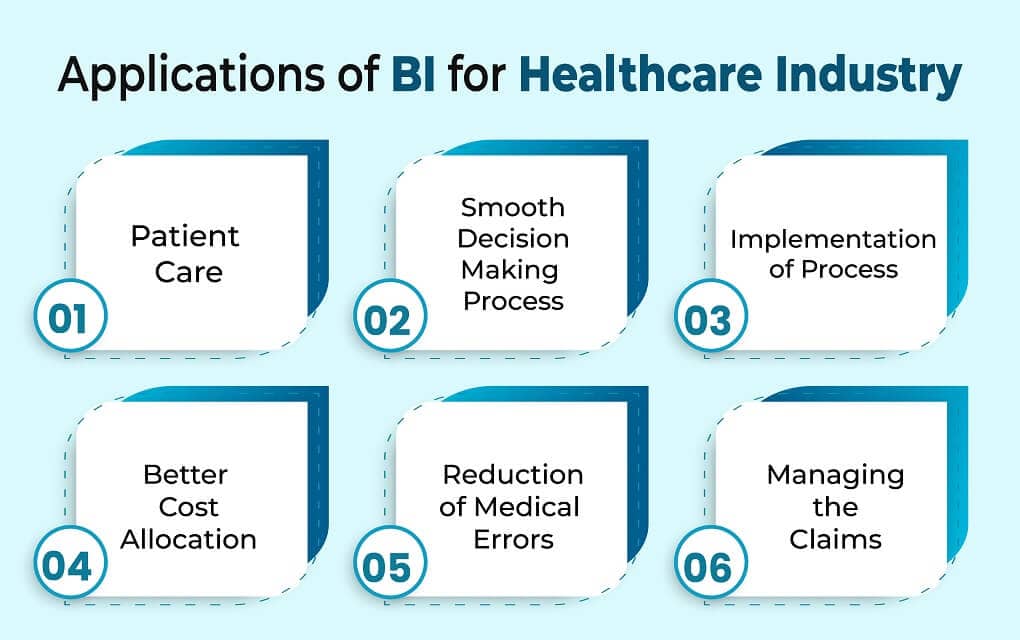 1. Patient Care
To assist the operations of a healthcare system, medical services are increasingly relying on digital technology. Emergency rooms and other medical service organizations require an environment that supports the daily procedures of surgeons, doctors, and all other healthcare staff.
BI consolidates and provides to the doctor all instances collected from the Electronic Health Record. This program keeps track of all patient information. A simple software program installed on a mobile, tablet, or laptop allows the doctor to view every single patient test and treatment report, both in the office and at home.
With more data accessible throughout the whole process of hospitals delivering patient care and treatment, analytics on them assist in readily discovering areas of wastage. Data analytics help cut variable expenses accordingly, and the overall billing of the patient is significantly lowered. As a result, the overall cost of patient treatment is reduced considerably.
More BI apps increase patient satisfaction overall.
2. Smoothen the Decision-Making Process
The demand for BI tools to uncover and analyze multiple healthcare administration defects and difficulties is growing. Furthermore, advanced investigative abilities are required to comprehend significant challenges and linkages between patient, clinical, and operational data.
Administrative chiefs can use BI software to monitor Key Performance Indicators (KPIs), which break down, oversee, and assist healthcare businesses in adjusting their performance based on exact facts and examination-based knowledge.
3. Implementation of the Process
Using BI tools to break down patient flow, enhance persistent triage flow, and make better decisions based on the number of occupants in the healthcare organization, emergency clinics will realize the ideal release times of a patient for the best usage of bed space. Aside from any emergencies, patient treatment can be more precisely organized.
As a result, administering the proper medicine at the right time improves patient outcomes while lowering costs.
4. Better Cost Allocation
Predictive modeling and data visualization are essential factors to consider when selecting the right healthcare analytics platform for the case of emergency health clinics. Only when a BI user (healthcare professional) readily understands healthcare information using various accessible tools can he/she apply those insights to handle risks, offer solutions for critical areas of care, and anticipate occurrences for the near future.
It is regularly represented by many examples of massive data in medical services. Giving more excellent patient and clinical consideration, boosting faculty dispersion, lowering re-admissions, and monitoring expenses are all necessary for using business intelligence tools in healthcare.
The real incentive for healthcare is from providing the highest level of concern for patients based on thoroughly researched data.
5. Reduction of Medical Errors
It might be attained through funding medical research and data processing. By exchanging medical information about a patient, BI systems can help a more comprehensive Healthcare system. Improved decision-making in the field of holistic healthcare policy by healthcare organization authorities. It is possible to do this by closely observing the performance of doctors, departments, and medical material requirements.
Multiple groups or persons may be formed by focusing on analysis and correct data, bringing them closer to the point of service, improving decision-making, and making data actionable.
6. Managing the Claims
BI technology assists health insurance firms and medical coverage groups in screening and monitoring situations. BI can assist improve claim response times. However, it can help insurance companies protect themselves from fraudulent claims and arrange the optimum treatment costs.
BI may also assist insurance businesses in improving their estimations. It can screen the number of actual vs false situations that pass through their organization and note how many clients are employing various social insurance rehearses for consideration and tactics.
To Sum-up
Business Intelligence in the healthcare industry is a massive change altering the current healthcare system. Data analytics is used to forecast disease transmission trends, allowing clinicians to be fully prepared for any potential threats. BI optimizes health care and income streams while also considering the demands of the medical personnel. It also utilizes real-time data to guarantee that the patient-doctor connection runs well.
Thus, BI continually analyses the sector's performance and saves lives by utilizing healthcare analytics and a new dashboard.